Good morning! I am a bit sore today....why....wellllll.....
Yesterday, Tink and I decided to go to 'hot yoga'....I was told that they turn the temperature in the room up so that you perspire more. Thinking that I could tolerate a little heat, I was game....so off we went with a bottle of water.....late, as usual....
As we snuck into a class that was already in session, I unrolled my mat and to my horror, the only spot left available was in the front of the room. Sneaking a look around, I knew that I was not in the aqua zumba class. These women were lean, mean, and serene.....Me? Well.....it took all of 60 seconds for the perspiration to begin to drip from my body. As I tried the maneuvers that turn the yog-ee into a pretzel, I began to slip off my mat since it was so wet. Even the poor instructor, Katherine, had to help me contort my body into the proper positions.
As the class went on and on and on....I started feeling not only blazing hot, but exhausted, dehydrated, and queasy. Katherine walked over to me and started moving my hips and back into a more aligned position; it was at this point that I almost threw up over her nicely toned and evenly stretched body. Fortunately, I did not projectile vomit my morning Cheerios and I felt that this was a victory for the old lady. In a foggy stupor, I knew that I had to do something quick to alleviate the nausea and facilitate a better stretch to keep the instructor away from me, so I decided to use guided imagery to calm my nerves and stomach. So, in my mind, I focused on something round and red with cheese on it. Yep, pizza was my focus....and it worked. My stomach and nerves settled and I was able to finish the hour just slipping one or two more times on my mat. When the lights were turned back on, I looked at myself in the exercise mirror and was astonished to see a middle aged woman with her short hair sticking out in various sections, looking like she had stuck her finger in a light socket, and her body completely soaked with sweat. All in all....it was not very pretty....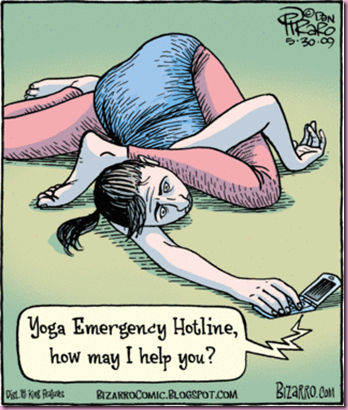 Rolling up my mat, I thanked Katherine for her patient treatment of her special needs client and went home to have a slice of pizza. On our way out the door, she mentioned that if I have pain the next day, I should stretch....uh huh....stretch as I reach for the Motrin, aleeve, ice packs, and vodka....
On to the big kid....he absolutely is going to the pitching doctor in Houston on July 1st. Until then, he will rehab with his physical therapist and be the butt of jokes in the gym. It seems that therapists remember some of his bakery stories from last summer. My former therapist Tank laughs when he sees him especially remembering when he made the little Asian girl cry because he forgot to put her cupcake into the bag. her very angry mother (who could have benefited from guided imagery) called the bakery and gave the phone to the little girl as she wept into it.
When telling her that he would give her two more cupcakes, the mother said that they were not coming back but she wanted him to know how his ineptitude caused angst in a four year old....There are some things that make people smile, and this makes Tank crack a grin and fall into hysterics....yep, all in all, it was a not-so-wonderful memory. I'll tell you this...since then, he has never forgotten to put the cupcakes into the bags. You learn by experience.....
Time for me to prepare for class tonight. Enjoy the day!