Good morning! I have not posted for a few days for a few reasons. The biggest reason was that our BP Grandpop was rushed to the hospital. When BP Pop is in, so are we. In fact, within 40 minutes of his admission, the rest of the siblings were standing next to the folks offering support and humor. Even in stressful situations, we find ways to crack each other up. After 24 hours, he was released and brought home to hang out with BP Grandmom and Betty. OK, Pop, let's make this the last for a few months. Right?
On to the perfect dogs...NOT! What the heck! I watched the first part of the video 8 times. Then it came time to work with the pups. Tink took one and I took the other. We separated them to minimize distractions. I took the quieter male to train thinking that this would be a breeze. Yep, I had the tools, my $100.00 DVD , leash, and collar. We are ready to go. Come on, little fella.....here we go...come to momma....walk with me....
Nice....
Not nice....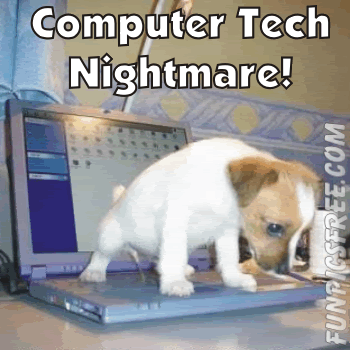 Hey, get up.....
Hey, this is not the way it is seen in the video...
Cut it out...
Don't bare your teeth to me....
Come on...please.....please....
Come on...let's get out of phase 1.....
We have 49 more commands to learn....
Please....pretty please....
@$*U%SJI(*&&(%O)
Done. I am done for today.....
And that is how it went....we are still in phase one.....Command 1 is still on the table because they refuse to cooperate. That's right. Who is the pack leader? Uh, obviously it is not me.
Although, I have to say, I am NOT giving up. This afternoon, we are starting again. And again....And again.....Although, I feel like I am hurting their spirit, but the DVD guy says: "No, the dog will thank you for training him."
Thank me, hmmmm...with flowers? Licks? A half eaten bone?
The reality is that I cannot move through the commands until they master the first. How long is this going to take as I drag the little guy across the floor with the leash? He sits down, then lies down, then ignores me...then I have to tug a bit....then tug again....then drag....He removes unaffected by my pleas and requests.....I am on the floor....I am making eye contact....I beg....but cannot offer a treat according to the video. Dang! I have to do this right...or do I?
If I offer a treat, he will follow me to the moon and back. But the DVD guy says "no treats".
Dang...double dang...triple dang.....
Time to open the boxed wine again. it has been collecting dust on the shelf for months. It might be a Merlot Moment again.....
How is the big lefty? Well, he has a scrimmage or bullpen or something like that today. So, he prepares the night before with Chinese food and a Jeremy Lin video. The food and Jeremy Lin are unrelated although I see a correlation, he does not.
And so, Jeremy inspires him as the food fortifies him. We will see if Jeremy and King or Kung Pao chicken work.
He called to share some more of the last mental training. Apparently there is a successful rugby team somewhere in the world. Before each game, the team dances together. Then they play and win their rugby match. Do they dance again after the match on top of the bodies of the defeated team? I am not sure, but let me tell you one or two things...
Dancing as a team will not improve performance. I believe excellence comes from practice, fundamentals,
a commitment to excellence, and not doing the hokey pokey or Bunny Hop with the outfielders. How about dancing the Alley Cat? Remember that one? I recall dancing that one at weddings when I was a kid....perhaps I should share this new insight with my over 40 tennis team. The Ally Cat can bring back our youth. As we think young, we forget about our creaking knees, backs, and sore elbows....I like it. Perhaps the Czar is on to something.....
Gotta roll and mentally prepare for my dog training.
peace